RADISH SALAD, POTATO and it's sauceCOULIS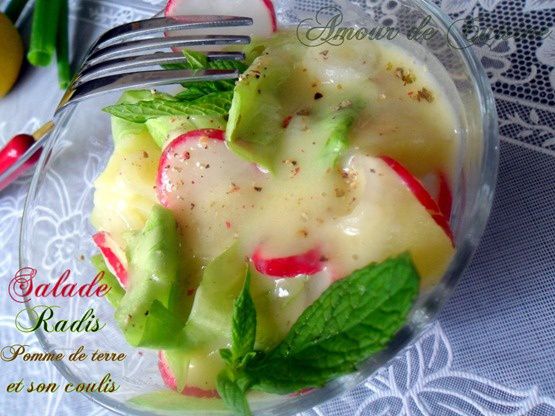 Hello everyone,
This is a very very tasty salad that I prepared for me this morning because my children had couscous for lunch, so I wanted something lightweight.
and a salad is always welcome in these cases.
a salad full of crunchy and tastes.
the ingredients:
2 people
2 potatoes medium

2 medium shallots

8 radishes

a few lettuce leaves

1 ca cafe mustard

juice of 1 / 2 lemon

Ca 2 tablespoons olive oil

salt, pepper

1 ca cafe oregano
the method:
Peel potatoes and cut into cube sized

make the boil in salted water

When the potatoes are tender, drain and keep its water.

in the bowl of a mixer, the equivalent of taking half of a potato (cubes cooked)

add the biker, olive oil, salt, lemon juice, black pepper, oregano, and mix.

add water from the potatoes, slowly to this mixture by mixing, for a smooth sauce.

Cut the radishes and onions into thin slices

cut lettuce

Mix all ingredients in a bowl

and decorate with the sauce potato.
thank you for your visits and comments
good day