gratin OF CHICKEN MEATBALLS CHOUMICHA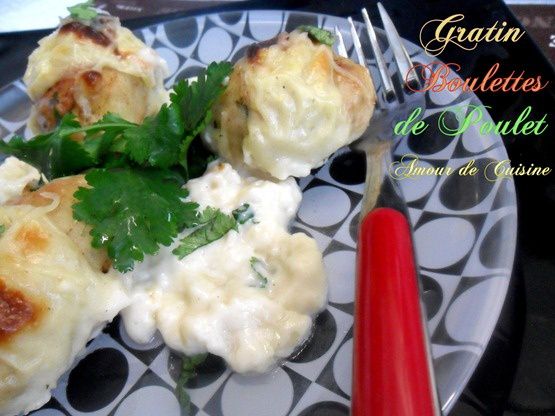 Hello everyone
I do not offer a lot of casseroles on my blog, because my children do not eat, but I try to bring them more flavor.
this recipe is a recipe for sublime Choumicha, I will not tell you how long I'm a fan of Moroccan cuisine and global revenues give you always want.
so when I wanted to make this dish, I remembered this recipe, I noticed when placed on the Moroccan channel 2M
In any case, the recipe was too good, and the children were happy to see three balls on their plates, one of them told me, I will finish it in two bites, hihihihiih
So I issue my friends is the recipe:
250 grams of chicken breast, chopped

125 grams of baked potato and pureed

1 onion, chopped

Ca 2 tablespoons oil

2 cm fresh ginger, grated (I did not)

1 / 2 teaspoon salt ca

1 ca coffee turmeric (I forget to, hihihihi)

Ca 2 tablespoons chopped cilantro

20 gr flour

Ca 4 tablespoons oil
to brown:
400 ml white sauce

50 g grated cheese

2 chopped onions

Ca 2 tablespoons oil

1 pinch salt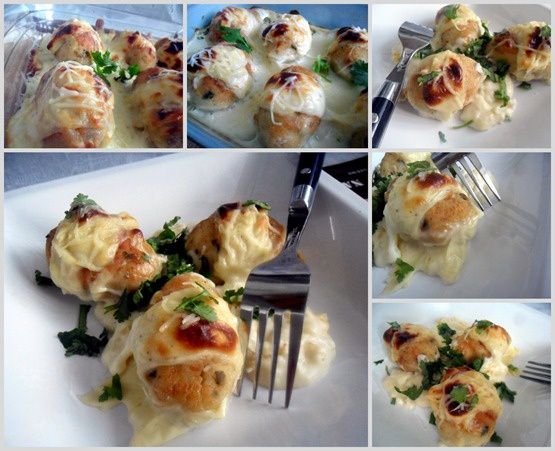 method of preparation:
in a skillet brown the onion in oil

in a bowl, mix chopped chicken with mashed potatoes, golden onion, cilantro and spices

Sew sized balls and coat with flour

in a non-stick pan, heat oil and brown the meatballs and set aside

in a pot over low heat, cook covered the chopped onions and salt in oil until they become golden

mix them to get a smooth paste and add to the bechamel sauce with cheese.

place the balls in a buttered gratin dish and top with a bechamel sauce onion

broil in oven preheated to 180 degrees C for 25 min.

used the cream immediately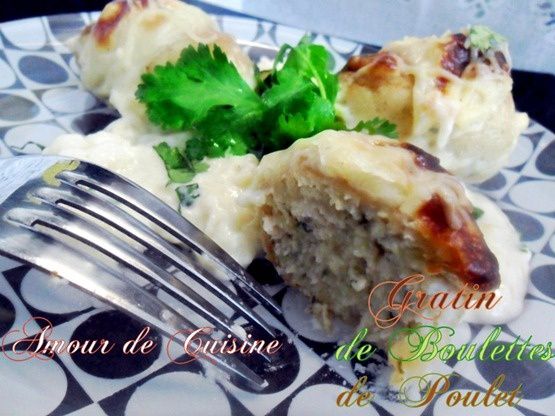 thank you for your visits.